7 Bands That Will Help You De-Stress And Relax
Stress is never fun, plain and simple. But sometimes in the lives we lead stress happens more often than it should. When stressful times rise up in my life, what I do is basically turn the world off for a little while and surround myself with some good music.
If you are going through some stressful times in your life right now, hold tight! Here are a few bands you can shut the world off to.
7 Bands That Will Help You De-Stress Yourself!
1. Explosions in the Sky
Explosions in the Sky are a post-rock band from Texas, their music is truly beautiful. No lyrics, just airy guitars and melodies.
2. Kings Of Leon
These Nashville natives are finally back from their haitus. Kings of Leon is one of my favorite bands around, their alternative/southern rock style is so calming. I love them.
3. Fences
Fences is the creation of singer/songwriter Christopher Mansfield, they are a 4 piece indie-rock band from Washington state. This song got me through a lot when I was in college :)
4. The 1975
There honestly is nothing bad to say about The 1975, their music is great when you just want to chill and take a drive to relax.
5. A Great Big Pile Of Leaves
This little indie band from Brooklyn will make your day :) They are my current feel good band.
6. Edward Sharpe and the Magnetic Zeroes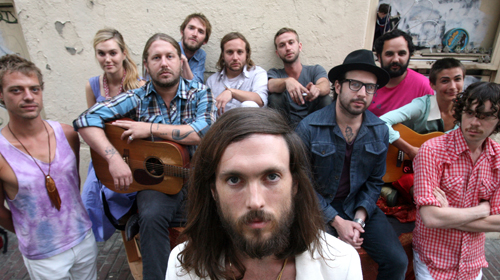 Just let the sound of this multi-piece band from L.A take you away. If you are unfamiliar with Edward Sharpe and the Magnetic Zeroes, check out my blog post about them here.
7. Metric
Metric has been around for so long now! Their music has honestly helped me through so much stressfullness! Emily's vocals are so pure and light along with their synth riffs. Love them!
What are the bands that you turn to when your stressed?
You'll
♥
Loading related posts from sailthru...